FIVE Recruitment Trends to Watch: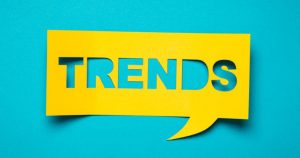 1. Australian Standards for employment screening (AS 4811-2006) will be updated, after 15 years, to include adjudication.
2. Critical Infrastructure expanded & positive security obligations (personnel vetting) tightened – covering 1.6+m employees.
3. The expanded Critical Infrastructure sector – Defence Industry – must sponsor & manage their own AGSVA security clearances.
4. PSPF personnel 'suitability assessments' that are not too official, but not too light will be required for all government, contractors and supply chains.
5. ISM P10 changed to require all people to be 'trusted and vetted' (no, a police check & a ref report is not enough.)
Do you want to uplift to 'better' employment screening practices, then consider this recommendation from the NSW Government:


With those trends and recommendations in mind, let's take a look at the differences between an official PSPF-AGSVA Baseline security clearance and Cleard Life Vetting Agency PSPF suitability assessment.
The commentary on the right hand side (especially point a) considers employers (eg. critical infrastructure entities – point 2 above) who may have offshore workers. In most cases, non-Australian citizens cannot obtain an AGSVA national security clearance – at any level. The PSPF suitability assessment, therefore, is more flexible and can accommodate for this workplace diversity.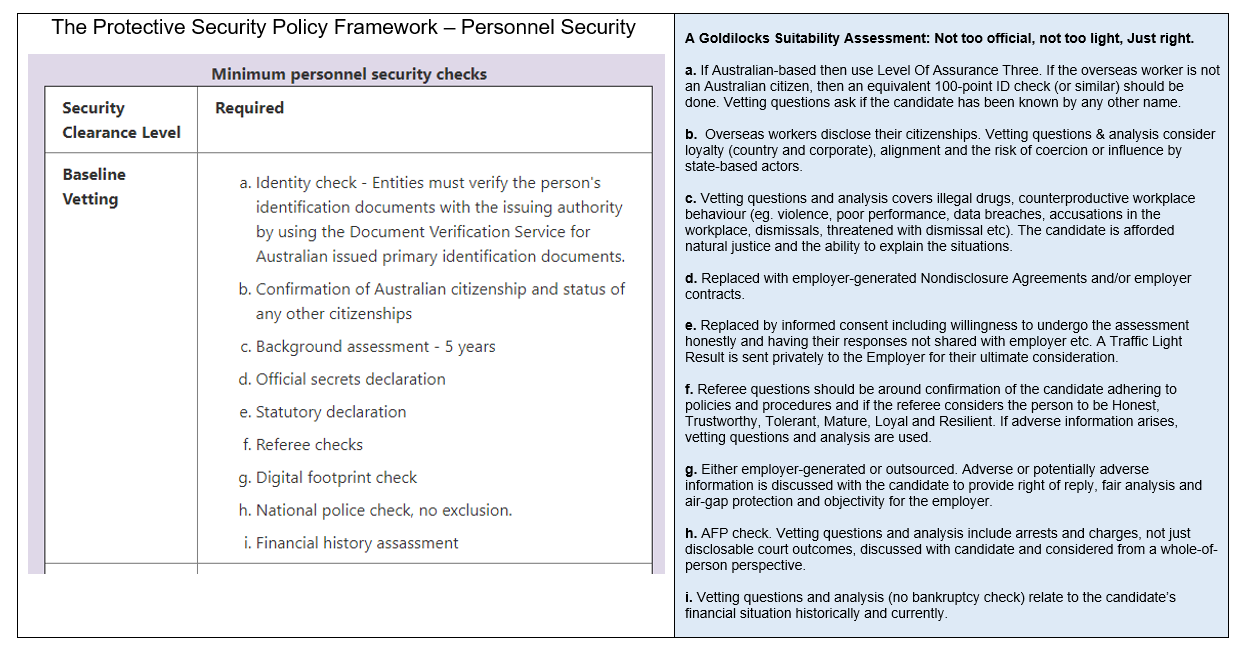 A complex AGSVA Baseline takes on average 144 days and costs $703. 23% of applicants are not granted a Baseline clearance. Compare that to our e-vetting, interview & decision making platform: with decisions (red/amber/green) sent to employers 'next day' after the candidate interview and as low as $135.20.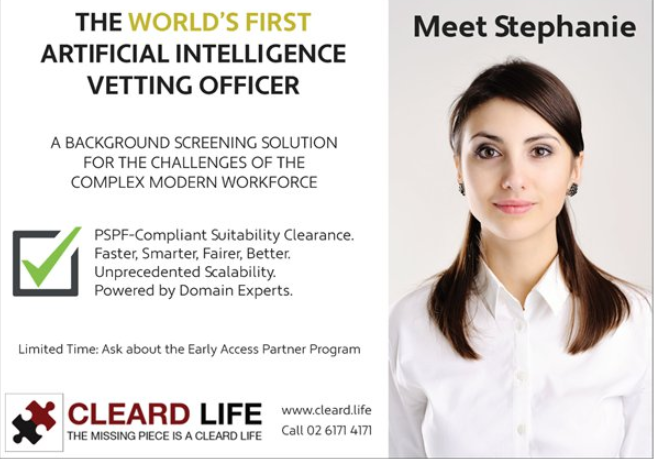 How to Implement:
From an implementation point of view, prominent background screening vendors such as CV Check, Sterling Risq, Equifax, First Advantage, PharmacyID etc are able to add a "PSPF12  Suitability Check" into clients "background check bundle" with little to no fuss.
If your Background Provider or your Cloud HR / ATS cloud platform does not have this option yet, then ask them for it – or speak to us directly to see how we can help  02-6171-4171 or sales@cleard.life.
Or start your first Assessment free at https://www.cleard.life/join/