A Guide to Australian Standards for Workforce Screening
Employment screening processes are beyond the standard interview process done by HR, recruitment companies or the hiring manager. Employment screening requires extensive resources and systems designed to uncover information that the employer requires to make an informed decision about the eligibility and suitability of a candidate – and this needs to be done during the hiring process.
The more information obtained and evaluated, the greater the chance of reaching the correct decision to employ a particular candidate.
Today, hiring risks are magnified. Most of the HR professionals acknowledge the need for rigorous screening process. Following a few practices and standards, HR professionals can minimize the risk of a bad hire or hiring a dishonest applicant.
The NSW Independent Commission against Corruption (ICAC) Report reinforces the need for a robust risk-based employment screening framework as typically between 20% to 30% of job applications contain some form of false information. Nothing in the report suggests ICAC's statistics relate solely to NSW or to the public service. They even think there are better screening practices available.

The Australian Standard for Employment Screening was created in 2006 as a guide on how to approach this important area of risk. HR should consider reviewing their screening framework to accommodate complementary practices that have emerged during the past decade.
The key elements of Australian Standards Employment Screening 4811 were:
Identity – Sight some form of photo identification. If a photo is provided, a photo identification should be done and re-checked before going further in the screening process
Identity – Verify address history. Point 1 and 2 are mandatory before taking a hiring decision as per Australian standards. Verifying a driver's license meets these two elements.
Integrity – CV should be checked.  CV of the candidate should be checked thoroughly to understand about the candidate and his past work experience.
Integrity – Referees should be checked. To establish a history of strong moral principles, honesty and decency.
Integrity – Police check should be conducted.  Point 3, 4, 5 aren't mandatory as per Australian standards to make a hiring decision and to confirm whether candidate has any previous criminal history.
Credentials – Verify qualifications and professional memberships
Credentials – Professional Referee should be sought to verify positions and dates of employment. Point 6 and 7 are recommended but not mandatory before taking a hiring decision.
As an employer, let's say you verified a candidate's driver's license, qualifications, and professional memberships. Congratulations, you have essentially met the 2006 Australian Standards for Employment Screening.
Is this enough? No – you know that you cannot really determine whether your candidate is suitable or unsuitable given this minimum amount of information. It will help immensely if you have a more thorough screening process.
Australian Standards 2006, even though a good starting point at the time, was 16 years old, out-of-date and in desperate need of review. This happened in March 2022.
AS 4811 2022 Workforce Screening now includes a ISO 31000 -type risk assessment.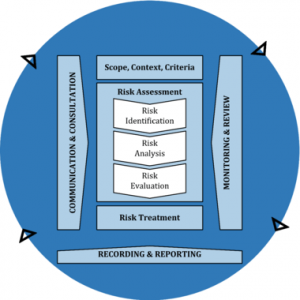 Preemployment screening practices must change. Are you ready?
AS4811:2022, page 8: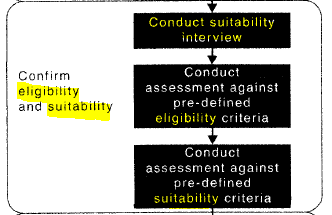 AS4811:2022, page 9: Shall = must!
The PSPF, DSPF and AGSVA's criteria is found here.

Scope Context Criteria– Is your assessment taking into account: drug use, financial vulnerabilities, data breaches, theft or fraud or sexual misconduct in the workplace (which was not reported to Police), AVOs or DVO's outside of the workplace. If your company is in the context of the new and expanded critical infrastructure sector, or the mining industry or the defence industry your risk assessment now needs to cover foreign influence risks, state-based espionage and sabotage.
Recruitment processes are different.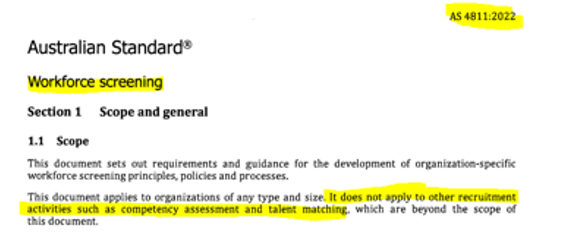 Risk Identification – why not include the 21 dimensions of a person's background that the PSPF use in which 440,000 people have been screened against in Australia.
Risk Analysis – use the secret sauce: the fair, non-discriminatory PSPF Adjudicative guidelines.
Risk Evaluation – an easy to understand Green (favourable), Amber (Caution) , Red (Adverse) result gives you actionable intelligence.
You can start immediately by selecting one of our 4 different Suitability Assessments – you can get your first assessment free.
Already doing a Police check? Talk to us about our pre-employment screening 'overlay' and how we can help you make the right governance, risk and compliance decisions.
The new Standard also raises the bar and includes continuous personnel risk assessments that include the full life cycle and the standard refers to: initial suitability, ongoing suitability and separating personnel.
We do all of this at the very highest and exacting levels because we sponsor and manage a growing national security clearance portfolio: the gold standard of workforce screening.
So, talk to us about how we tailor your civilian workforce program that may (or may not) involve a security cleared workforce.
Read more:
1 in 4 fail pre-employment integrity testing (sample 15,000). Is a vetting check some of the Best Business Insurance money can buy?
1 in 4 Complaints to the Human Rights Commission are due to Criminal Record Discrimination. Are you next?
1 in 4 potential employees admit to behaviours that most employers consider high-risk. HR Managers and Risk Managers need to get onto the same page.
Occupations and Cleard Life Clearance Levels – a helpful guide.
5 things every HR Professional should know about Background Checks