Are Your Personnel Security (PERSEC) Measures (AS 4811 2006) Suitable?
20% to 30% of job applications contain some form of false information according to a recent report of the NSW Independent Commission Against Corruption (ICAC). Nothing in the report suggests ICAC's statistics relate solely to NSW or to the public service. Very likely similar issues will be found across other states and territories and in private practice. For hiring managers, a robust risk – based employment screening framework should be crucial component of the recruitment process.
What does this mean? Formally at age early in 2018, recruiters should consider reviewing their employee screening framework to address new practices that have emerged during past decade.
The Australian Standard for Employment Screening was created in 2006 as a guide for recruiters on how to approach this important area of risk. In some ways it is old, expired and antiquated. Even the "100 points of ID" is not a must – nor is a police check. Recruiters are recommended to consider reviewing their employee screening framework to address new practices that have emerged during past decade.
This is also referred to as AS 4811-2006, the Australian Standard for Employment Screening was first published in July 2006, with an experienced committee overseeing its publication.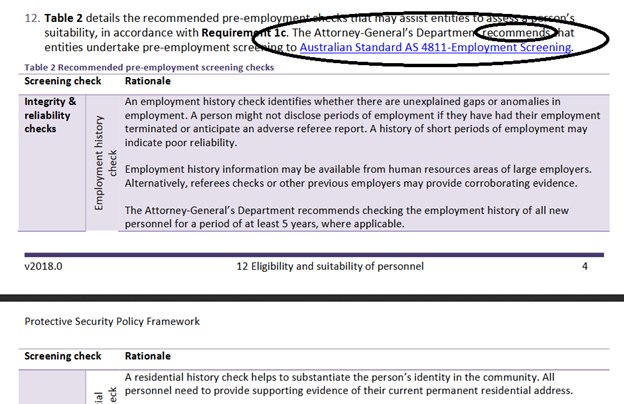 In terms of the specifics of the above …
Identity should be in sight some form of photo identification. And verification of the address history – a driver's license should meet these two elements.
For Integrity CV (resume) should be checked, even referees should be checked to establish a history of strong moral principles, honesty and decency. As well police check should be conducted. While none of these are considered mandatory.
To check Credentials, professional referee/s should be sought to verify positions and dates of employment.
The Australian Standards are 13 years old, out-of-date and in need of review, which may not happen soon.
DISP entity: When an employer sights the candidate's driver's license (and does not have a claimed qualification or professional membership) you have essentially met the Australian Standards for employment screening – namely identity, integrity and credentials.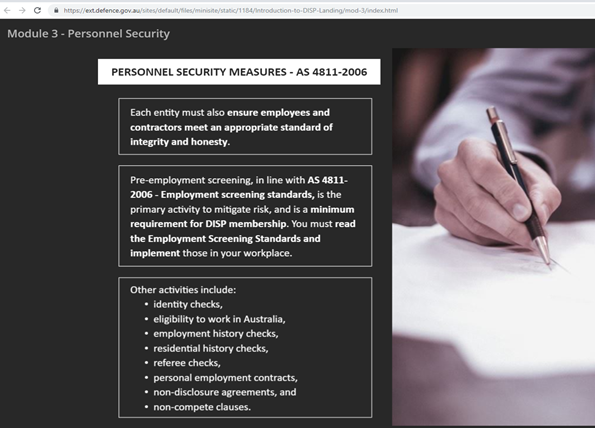 DISP also states that "other activities" could or should be done to meet the "appropriate standard of integrity and honesty" – which is synonymous with suitability. Where do you stop, though? Sooner or later, as a DISP Member, your candidate and workforce may need official security clearances at the Baseline, NV1,NV2 or PV level.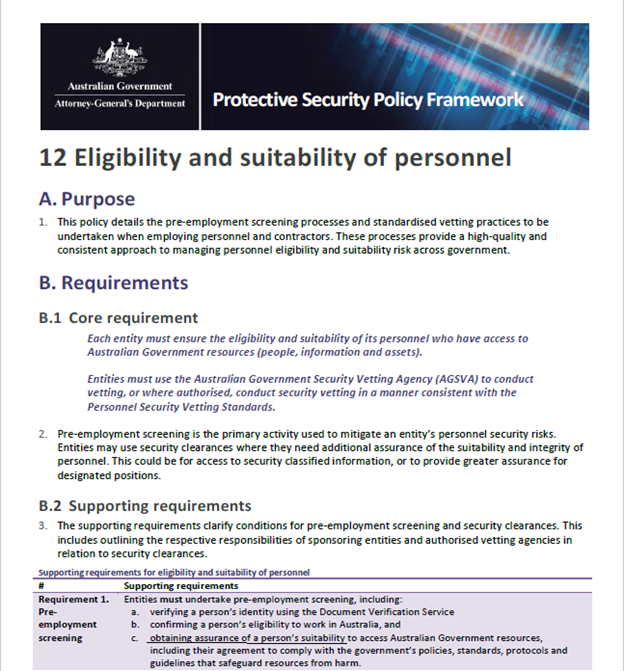 The meaning of the term suitability underlined above is very specific term and is defined and is laid out in the PSPF Adjudicative Guidelines called "Suitability Indicators" namely Honesty, Trustworthy, Tolerant, Maturity, Loyalty and Resilience (HTTMLR).
A company needs help to align the "appropriate standard of integrity and honesty" (suitability) with the official suitability standards of a Baseline, NV1, NV2 or PV clearance. The alignment gives the company a fighting chance to mobilise workforce without any delays from the official clearance process.
Therefore, a PSPF-compliant (pre-vetting) suitability assessment solution is required to solve this problem.
A company may already outsource some elements to a screening provider or perhaps a recruitment agency and already be conducting things like qualification verifications, referee checks & other database checks (police checks) that are relevant for the position (or the anticipated security designated position). But recognise that it is limited in addressing the technical PSPF term "suitability". If your company is using a recruitment agency, then they need to ask very specific questions about how they recommended candidate's suitability. Especially, those who do not yet hold a security clearance, nor have demonstrated meet the PSPF suitability standard.
Recruitment business model may be conflicted. Recruiters should be asked to deliver competence and high performing talent. Disqualifying the best candidates based on a background check or character is counter-productive. For example, one of the largest commonwealth agencies duplicates the suitability process, they have the recruiter recommend candidates who are competent and generally seem suitable and then the Agency does its own security/ suitability checks.
In every scenario – we suggest incorporating the Cleard Life Suitability Assessment into your recruitment process – whereby any adverse (eg Disclosable Court Outcome or a bad referee comment) is provided to Cleard Life at the point of ordering the assessment. The issues can then be properly investigated, including one-one interviews, fair and non-discriminatory analysis & adjudication.
National security clearance gives appropriate standard of integrity and honesty and so does our suitability risk assessment.
Cleard Life uses a REST API so with a click of a button one can order an assessment via your own human resource information (HRIS) or Applicant Tracking system (ATS) or one can use our portal.
Click here to find out about our pre-employment screening solutions and help you make the right risk decisions. You can even get your first assessment (valued at $169) free.
News flash: Defence Industry is now considered part of the Critical Infrastructure of Australia and your company now needs to hunt for spies – read more here.
Security Awareness briefings for every candidate, find out more here.