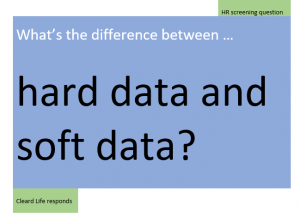 Primary Source Verification (PSV) is a known as a 'hard data' screening process that involves liaising directly with original issuing sources. Hard data are documents that include, but are not limited to, driver's licences, education degrees, work permits, passports, employment certificates and practice licenses, bankruptcy checks, police checks, credit checks, digital footprint social media check, among others. Literally there could be more than three dozen checks you could perform. But then what? What do you do when you find a discrepancy, anomaly, accusation or a concern? Even if the Police check or Bankruptcy check is adverse and true, the issuing authority never makes an "assessment" or "recommendation" on behalf of the employer. It never uses an unbiased, non-discriminatory standard set up by the Attorney Generals Department, because only looks at one specialised area. Hard data by itself is deficient.
Research says that 53% of hard facts (including CVs) can contain have false or misleading items. To disqualify a candidate due to suspect claims, or a plausible or explainable gap, anomaly or discrepancy would not be in the best interests of anyone.
Think of 'soft data' as everything that is not held in an authority's database somewhere. The information comes directly from humans. It is human intelligence. It might come from a past supervisor or work colleague, or a client, or a professional or personal referee, or a recruiter. Often it comes from the candidate's own words. The source or the motivation of the information could be flawed, misleading, suspicious or revengeful. This needs to be weighed by experts.
Our 'soft data' Vetting-As-A-Service platform sits on top of that Primary Source Verification process.
When potentially adverse information or discrepancies comes to light, the platform dynamically initiates a two-step 'adverse action process' affording the candidate an opportunity to discuss the issues and explain the extenuating circumstances surrounding the concern. This is called procedural fairness. Providing natural justice in recruitment – especially around the potentially disqualifying behaviour – is an employee experience expectation and candidate experience trend that will continue to grow. The platform uses the government-mandated 'whole of person' protocol which means the subsequent analysis places any concerns into its proper context.
By going to the ultimate primary source for verification – the candidate – is not only the right thing to do but it is the most powerful way to get to the bottom of things – fast.
By overlaying a soft data process on top of a hard data process during the recruitment (shortlist) stage you can be assured of unbiased decisions, reduce false positives while also discovering undetected risks.  Adding a candidate-centred process is demonstratively fairer than checking hard data alone and not addressing the accusations, adverse check results or known behaviour with the subject, the candidate.
Since 2010, we have been entrusted by the Australian government, Fortune 500 companies in Australia and small to medium organisations to provide discreet, timely and accurate screening solutions that support them in making sound, fact-based HR decisions. As a result, we annually conduct thousands of one-on-one interviews and verification transactions, tailored to the requirements of the organisations we work with.
Test drive your new employee screening program today – for free – www.cleard.life/join